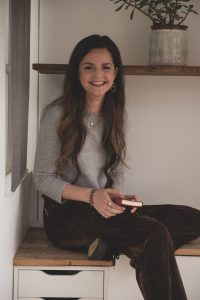 Hello. My name is Zoë and I am the Founder of BB Pads. About two years ago, I first started to become aware of and was horrified by the immense environmental damage being done by the production and disposal of conventional period care products. I was also shocked to learn that companies selling so-called "sanitary products" in the UK are not legally required to disclose all the ingredients in their products. I made the switch to the MoonCup which I absolutely loved but I was still using it in conjunction with single-use pads and I really wanted to only use reusable products. Period pants personally weren't for me as I wanted something that I could change throughout the day without having to faff around taking off my trainers and trousers. I found that most reusable pads on the market were made from fabrics containing microplastic fibres, and for an item that was to be so frequently washed, this didn't make much sense to me.
Last year, after spending some time working with a Thai, women-led, human rights organisation in Bangkok, I ended up stumbling across an incredible textile company who produced completely plastic-free, harmful-chemical-free fabrics composed of waste plant fibres. I quickly became obsessed. I then worked briefly for an incredible organisation called the Sermpanya Foundation who provide psychosocial relief and education through open-air cinema screenings in refugee camps along the Thailand-Myanmar border and whilst there came across Chimmuwa. Chimmuwa make small batches of handwoven, cotton fabric using traditional weaving methods and natural plant-based dyes. I began spending my evenings with pencil, paper, ruler and rubber, sketching out period pad designs, researching and then testing what qualities the different plant fibres had and how they could work perfectly for their function in a period pad. I loved the idea of making the product out of "waste" and it being completely circular so that when it was eventually disposed of, it would quickly breakdown into healthy soil leaving no toxic residues.
Nine months and an expected hurdle, two or three later and we're here! I have been incredibly lucky to meet so many astoundingly kind, generous, passionate, creative, hard-working people throughout this process who I cannot thank enough. A massive shoutout also to my family and friends who have patiently listened to my endless ravings over intricate period pad dilemmas and especially to my dad for putting up with some particularly graphic and gory experiments in his kitchen.
I do realise that its a big ask to change deeply-ingrained, personal and convenient habits and routines but, you can rest assured that using your BB Pads will soon become second nature and will help in keeping your body, our planet and your pocket happy. We hope you bloody love them.
Here are a few of the incredible people who have been working hard behind the scenes to help bring BB Pads to life.
This is Khun Bandid. Khun Bandid and his team make and source incredible eco-friendly textiles including ones composed of waste plant fibres like pineapple, galangal, kapok, hemp, lotus, lemongrass and banana, all grown with zero or negligible fertilisers and pesticides. These waste plant fibre textiles fully maximise resources, reduce waste, encourage the regeneration of traditional artisanal skills and boost farmers' incomes. The processing, weaving, finishing and knitting processes of the fabrics he has provided us with involve no harmful chemicals. Not all heroes wear capes, but if Khun Bandid did, it would be made of exquisitely soft pineapple and kapok.
This is Khun Venus. Khun Venus helps to manage a small family-owned factory in Bangkok. Usually they make beautiful designer hats for the Japanese market. The quality of her and her team's work is truly excellent and their attention to detail: astounding. The factory employs around 55 workers in total, many of whom have been working there for ten years or more and have trained and enhanced their knowledge and skills over the course of their time there. There are 15 people currently working on mission BB Pads. Over at BB Pads HQ we rustled up an Ethical Labour Standards Code of Conduct document with various T&Cs derived from internationally recognised standards. Khun Venus read through it all and verified that her factory complied with each point and signed. We're now looking into possibilities for an international certification for top-notch labour standards but this can be a costly and lengthy process so we will keep you posted. She also has gone out of her way to answer our super nit-picky questions and reduce plastic waste and packaging wherever possible!
Here we have the Chimmuwa staff, from left to right: Paw Moo, Wah Wah, Gey Ler Paw, Sylvia Lin, Eh Eh and Nor Nor. Chimmuwa is a women's collective, handicraft group based in Mae Pa, Thailand, near the border with Myanmar. The fabrics we source from Chimmuwa are 100% cotton and grown without the use of chemicals in various villages scattered around the area. One of the main purposes of Chimmuwa is to preserve the traditional weaving culture of the ethnic Karen people. They also actively encourage villagers to use plant-based natural dyeing. Tree barks, plant leaves, stones, roots and fruit can all be used to dye the cotton threads. By encouraging chemical-free production, the larger community benefits from cleaner streams and soil. 
When Sylvia Lin, the co-founder of Chimmuwa, first moved to Mae Sot, she became immersed in Karen culture. She would visit the refugee camps and villages along the border. In these small communities she discovered that while old skills were still around, young people would leave for Bangkok and modern technology. Her love for the people and the handicraft she found gave her the idea to set up an organisation that worked to keep the old traditions and weaving techniques alive. Sylvia then met Nor Nor, who, at age 12, was taught how to weave by her grandmother. In her village, weaving was an art done by most, if not all of the women. Nor Nor now leads a small team of dedicated seamstresses who she has trained to be independent workers. Most of the fabrics they use for their products are hand-woven Karen fabrics made by weavers from various villages scattered around Thailand — they also make reusable period pads with their fabrics which are sold in Thailand. Over time they have established a relationship with weavers from around 10 different villages.
Thank you also to…
Fernanda Peralta from São Paulo, Brazil, for her stunning illustrations, Cat of Cat Arwel Photography who went out of her way to produce a beautiful selection of photos for the BB Pad brand (she also does occasions, weddings and headshots), the lovely and very talented makeup artist and hairstylist Louise Heywood, Claire & Nicole at Social Style Pro, Fred & Penny of Flat White Websites and the whole team at Oru Space.